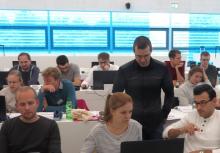 Event/Course Format
In person
Sector of the Target Audience
Research and Academia
Industry
Public Sector
Other (general public...)
HPC Profile of Target Audience
Application Users
Application Developers
Data Scientists
System Administrators
This advanced C++ training is a course on software design with the C++ programming language. The focus of the training are the essential C++ software development principles, concepts, idioms, and best practices, which enable programmers to create professional, high-quality code. Additionally, the course gives insight into kernel development with C++. The course provides insight into different design strategies (object-oriented programming, functional programming, generic programming) and the philosophy of "Modern C++" and teaches guidelines to develop mature, robust, maintainable, and efficient C++ code.
Please note that this course is not a tutorial on any specific C++ library or tool (as for instance OpenFoam or CUDA), but teaches good, mature software design with the C++ itself.
Since 2020 we provide two types of C++ courses, each offered two times per year:
intermediate: Mar. 8-11, 2021, and June 21-24, 2021
advanced: May 3-6, 2021, and Nov. 22-25, 2021 (this course)
with two different levels of prerequisites.