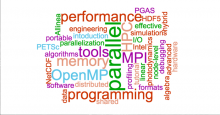 Event/Course Format
Mixed
Live (synchronous)
Level of Instruction
Beginner
Intermediate
Advanced
Sector of the Target Audience
Research and Academia
Industry
Public Sector
Other (general public...)
HPC Profile of Target Audience
Application Users
Application Developers
Data Scientists
System Administrators
On clusters and distributed memory architectures, parallel programming with the Message Passing Interface (MPI) is the dominating programming model. This 3 days course teaches parallel programming with MPI starting from a beginners level. Hands-on sessions (in C, Fortran, and Python) will allow users to immediately test and understand the basic constructs of the Message Passing Interface (MPI).
Content Levels: Beginners = 8:00h (50%) + Intermediate = 6:00h (37%) + Advanced = 2:00h (13%)
Note, an additional course on Shared memory parallelization with OpenMP takes place on the following two days, registration for both courses can be done on the same registration form.